Looking for something else? Let us know what you need:
OUTDOOR DISPLAYS | OUTDOOR BANNER STANDS | OUTDOOR SIGNS | CURBSIDE PICKUP SIGNS 
Outdoor displays for outdoor use are display products designed to be placed outdoors and to withstand the inclement weather (sun, rain, wind, etc.) for a longer time. Outdoor Signs are strong, solid, stable, wind resistant and durable.
There are multiple options, all ideal for capturing attention and attracting visitors and available buyers. It's just a matter of choosing the right one.
There are different types: canopy (tents), banners, flags (outdoors signs), billboards and more.
Outdoor Signs are weather resistant and durable. Outdoor displays give you the opportunity to reach a new audience. During these times they are convenient as Signs for Grocery Stores, Signs for Pharmacies, Signs for Hospitals, Food Banks, Now open signs, etc. They are also ideal for sporting events, concerts, and festivals.
They withstand most weather conditions and most outdoor signs have heavy bases with posts and accessories made of materials that give them stability in intense conditions. They are always easy to move and install.
Now it's easy to find the perfect and durable outdoor display for events and outdoor needs that also attracts visitors and allows your brand to shine or allow the message you want to clearly reach more audiences.
Our canopies or tents come in different sizes and can be in basic or printed colors. Solid or full-height or half-height printed walls can also be added.
Browse a wide collection of outdoor displays, including portable, off-the-shelf outdoor tents, banners & flags and signs in a variety of types and sizes. Designed for weather resistance and durability, portable outdoor displays create the opportunity to reach a new audience.
Outdoor displays can withstand all kinds of weather conditions, and many feature weighted bases and other ground poles for added stability in intense conditions. On top of this, these outdoor displays are easy to transport and set up.
Finding the perfect, durable display for outdoor events, environments and more that attract and engage visitors has never been simpler.
·      OUTDOOR DISPLAY TENTS
·      10ft wide Economy and Standard and 20ft wide Standard display tents are available with custom graphics. Outdoor display tents are made with weather resistant material and allow for reaching your audience in all conditions..
·      OUTDOOR BANNER STANDS & FLAGS
·      Outdoor display flags come in heights from 8ft to 18ft, and outdoor banner stands are available in retractable, telescopic and x-banner styles.
·      OUTDOOR DISPLAY & ADVERTISING SIGNS VERSATILE outdoor signs can be used to advertise in a multitude of locations and weather conditions. multiple types and sizes are available to fit your needs.
·      Now Open Sign: Tell everybody that your business is open and ready to serve and waiting for new customers with one of our 'now open signs'. They are extremely practical and easy to install
·      Signs for Grocery Stores: Let your potential customers know about your latest offers and promotions that are inside your store, also attract the attention of passing vehicles with our flags with custom made printed graphics.
·      Signs for Pharmacies
·      Curbeside pickup signs: Curbside Pickup Signs can be a vital tool for your business like restaurants during these times. Pick-up and delivery services will be the new standard from now on and if you inform your customers in advance you can increase your sales. We are offering expedited design, production, free delivery services at no additional cost. These would include Curbside Pickup signs.
OUTDOOR BANNER STANDS: They are an excellent option to promote your products or services outdoors, we have several options from which to choose your outdoor banner stands. Many times it will be necessary to add a base that can be filled with water or sand to create the stability necessary to withstand the wind or other inclement weather. The ED outdoor banner stands are of the best quality and are guaranteed for factory damage.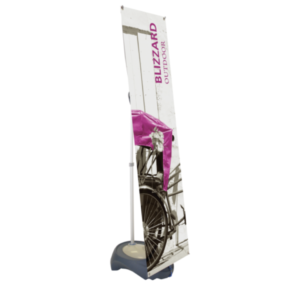 You can check for more options at USAexhibitor.com or go to our homepage